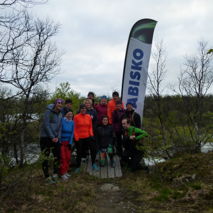 Lika rent som Jokken 3.0
Donate
Created By:

STF Abisko

Collecting for:

Lika rent som Jokken 3.0
STF Abisko Mountain Station is continuing to raise funds for WaterAid. Once again we will forward our collection to a favorite campaign: "Lika rent som Jokken 3.0!" ( "As clean as a mountain stream") and hope that as many people as possible are able to make a contribution.
In the mountains we are accustomed to drinking water straight from streams and not having to think that it might be contaminated! Not everyone in the world are as fortunate as we are!
So we have chosen to support WaterAid, an NGO working for a World in which everyone has access to clean water, sanitation and hygiene. We would like everyone to get water as clean as we have in our northern streams. Drinking it is almost heavenly!
One event in connection with our collection is the "Abisko Midnight Sun Run" a fun run of about 16 km along the old road, first used by railway construction workers, through magnificent mountain landscape, under the midnight sun. The start is from Paktajaure's parking area and the finish at STF Abisko Mountain Station.
We don't charge you for running with us but we do encourage you make a contribution to the collection instead. Last year we managed to contribute an amount sufficient to fund toilet facilities for 300 school children, training a bricklayer in toilet construction, two months´ wages for a hygiene trainer for the children and cleaner water for lots of people!
So join in a run out of the ordinary, not only for yourself, but also for someone else, and facilitating access to clean water!
You can register for the Midnight Sun Run which takes place on
July 1st 2016, via abisko.sport@stfturist.se no later than 12.00 pm on July 1 (the same day). Special information will be e-mailed to
you after registration.
This year's goal is SEK 5,000. We think that, with everyone's help, this will be surpassed without any difficulties! The closing date for our Wateraid collection is set for July 31st.
Let's go for it!
Help us by sharing info on Facebook so more will join the run or support Wateraid!
Thank you for your help towards making the World a cleaner Place!
Donate
2,150 kr


Collected

43% 5,000 kr
Anonymous User

Donated

50 kr

STF Abisko Fjällstation

Donated

200 kr

Gåvobevis till Eva Haverskog. Tack för deltagandet i Midnight Sun Run.

STF Abisko Fjällstation

Donated

200 kr

Gåvobevis till Gustaf Larsson och Lin Eriksson á 200kr. Tack för deltagande på Midnight Sun Run.

STF Abisko Fjällstation

Donated

200 kr

Madeleine Fjellström

Donated

500 kr

Linda Fjellström

Donated

500 kr

Youen Pericault

Donated

500 kr