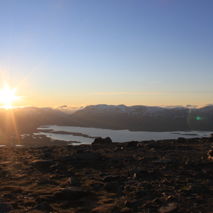 Created By:

STF Abisko Turiststation

Collecting for:

Lika rent som Jokken
STF Abisko turiststation har startat insamlingen "Lika rent som Jokken!" och vi hoppas att så många som möjligt vill vara med och stötta detta.
I fjällen är vi vana vid att kunna dricka vattnet direkt från jokken och inte behöva tänka på att det kanske är förorenat! Det är inte alla i världen som är lika lyckligt lottade som vi. Därför har vi valt att göra denna insamling till förmån för Wateraid, en hjälporganisation som jobbar för att människor i andra länder ska få tillgång till rent vatten och sanitet. Vi vill att alla ska få lika rent vatten som vi har i våra norrländska jokkar.
För att göra insamlingen möjlig så kommer den andra upplagan av "Abisko Midnight Sun Run" hållas den 26:e juni 2015, det är en motionsrunda på ca 17 km som går längs den gamla rallarvägen i storslagen fjällmiljö, starten är Paktajaures parkering och slutet är STF Abiskos vedeldade bastu vid Torneträsk.
Så häng med på en löparunda ut över det vanlig, och om inte för dig själv så gör det för någon annan och för rent vatten till alla!
Målet för insamlingen är satt till 3000 kr! Ett mål som vi är helt övertygade om att nå utan problem, om bara alla hjälps åt! Slutdatumet är satt till dagen efter Abisko Midnight Sun Run, 27:e juni.
Kom ihåg att dela på Facebook till alla dina vänner!
Tack för din hjälp till att göra världen till en renare plats!
www.facebook.com/events/833605030052552/
www.svenskaturistforeningen.se/sv/upptack/Omraden/Lappland/Fjallstationer/STF-Abisko-Turiststation/Se--Gora/Evenemang/Midnight-sun-run/
STF Abisko Mountain Station has started the collection "Lika rent som Jokken!" ("as clean as the stream!") And we hope that you all want to support this.
In the mountains, we are accustomed to drink the water straight from the stream and not have to think about that it might be contaminated! Not everyone in the world are as lucky as us. That is way we want to donate this money to WaterAid, a help organization that work so that people in other countries can get access to clean water and sanitation. We want everyone to get the same clean water that we have in our northern streams.
Together with this collection we will run the second edition of "Abisko Midnight Sun Run" on the 26th of June 2015. The trail is about 17 km long, and has its start at Paktajaure rest stop. From here the trail follows the old Navi Road, all the way to the wood heated sauna at the shore of Torneträsk.
So join this trail running event in the heart of Lapland, if not for yourself then do it for everyone ells in the world that doesn't have clean water.
The goal is to race SEK 3000! A goal that we are fully confident to reach without problems, if everyone helps! The end date is set to the day after the Abisko Midnight Sun Run, 27th June.
Donate
3,000 kr


Collected

100% 3,000 kr
STF Abisko Turiststation

Nu har alla pengar blivit räknade, och totalt, med insamlingsbössorna och BetterNow insamlingen, har vi tillsammans bidragit med 4226 kr till WaterAid. Dessa pengar kommer att användas till att skapa hållbara vattenförhållanden till människor runt om vi världen. Det kostar ca 200 kr att hjälpa en person till rent vatten, så med dessa pengarna hjälper vi ca 21 personer. Tack än en gång alla som var med och gjorde Abisko Midnight Sun Run möjligt och bidrog med pengar till rent vatten! All the money has now been counted, and in total we managed to raise SEK 4226 to WaterAid. This money will help people to sustainable clean water all around the world. It costs about SEK 200 to give a person clean water, so with this money we can help more or less 21 people. Thanks again to everyone that made Abisko Midnight Sun Run possible and helped raise this money for clean water.

STF Abisko Turiststation

Tack Anton Magnusson för din gåva till denna insamling!

WaterAid Sverige

Stort tack för ert fina initiativ! Lycka till med både löpning och insamling!

STF Abisko Turiststation

Tack Sieglinde Kundisch och Viktoria Söderlind för eran hjälp till en renare värld!

STF Abisko Turiststation

Thank you, Lights Over Lapland, for your handsome donation to WaterAid!

Anni och David Mintz

Donated

250 kr

Johan Wieslander

Donated

500 kr

Louise Johansson

Donated

200 kr

Thomas Ullner

Donated

150 kr

Sima Baymani

Donated

200 kr

Kim Kåberg

Donated

200 kr

AJ Garnello

Donated

200 kr

Lights Over Lapland AB

Donated

500 kr

Anton Magnusson

Donated

300 kr

Viktoria Söderlind

Donated

100 kr

Sieglinde Kundisch

Donated

100 kr

Robert Håkansson

Donated

300 kr